About us
The Instituto de Ciencia y Tecnología en América Latina (ICTAL) was founded in 2002 by Rodrigo Fernós as a result of his own academic interests in the area dating to 1994. He was introduced to the history of ideas by James Kloppenberg at Brandeis University, and continued his interest while at the University of Texas under Bruce Hunt. While at the University of Minnesota, he studied with John Eyler and Edwin Layton.
On January 8 of 2002, the organization ICTAL was initially registered at the Puerto Rico Department of State as the "Instituto para el Estudio de la Ciencia y la Tecnología en América Latina (Institute for the Study of Science and Technology in Latin America), Inc." It was later changed on April 12, 2004 in the same State Department to its present name.
During November 2002, a website (www.ictal.org ) was established to serve the organization's purposes, with help from Marcos Polanco--a Stanford University programmer. ICTAL.org was initially restricted to the textual online diffusion of such information, which included elements such as a broad array of links to specific sites, postings of upcoming conferences, as well as descriptions pertaining to those activities in Puerto Rico. Studies presented on its site included analyses of papers presented at local scientific conferences as the 38th Puerto Rico Junior Technical Meeting (UPR-Rio Piedras), or descriptions of presentations at the Encuentro Intersectorial Sobre las Relaciones AcademiaGobierno-Empresa (loosely translated as the Inter-Sectorial Encounter on the Relations between Academia-Government, and Industry). A complex link page was created, which served as a point source to webpages of leading scholars in the field (Anthony Aveni), journals (QUIPU), and organizations (SMHCT), both in Latin America and Puerto Rico.
In 2003 we began posting videos of interviews of engineers, historians, and scientists. Although it was not initially restricted exclusively to this one-on-one format, it was by far the most predominant. During that year, however, the organization also began and settled into the videotaping and digitally processing of conference presentations, becoming focused in this activity for the next six years. Exceptions usually occurred in regard to book presentations.
More than 100 conferences with some 900 speakers have been recorded and posted since the founding of ICTAL, widely ranging in topics as diverse as tropical forestry and oceanography to industrial development and renewable energy. (For a complete list, consult our Index.) The conferences videotaped have been mainly held in Puerto Rico. Some 54 organizations in total have benefited from the services provided by ICTAL. Participating institutions have included a diverse range, such as the Institute of Tropical Forestry, the Arecibo Observatory, PRIDCO, the Center for Social Research (CIS) at the University of Puerto Rico in Rio Piedras, the Sierra Club of Puerto Rico, and ACEER (Citizen Alliance for Education in Renewable Energy) at the RUM (UPR-Mayagüez).
We would like to enhance our current services to a broader ranging audience and participant group, in order to expand and deepen the services provided by the institution so far. While ICTAL has been able to incorporate technological advancements to produce what in practice became an online science-technology 'television' channel, we are still restricted in fulfilling our purposes given the existing geographical constraints of our locality. Any donations would be utilized to further these goals.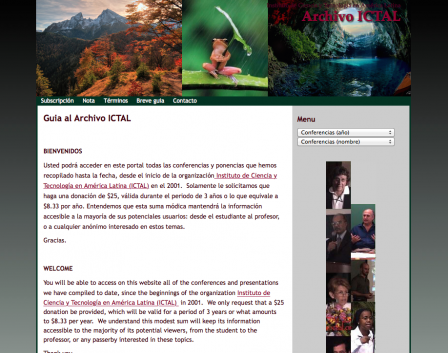 Anyone with an interest in volunteering or joining ICTAL, please feel free to contact us at 787-969-1129 or by sending an email to [email protected]