The coronavirus pandemic in five powerful charts

Source: Nature / VOX



The coronavirus emerged in Wuhan, a city of 11 million people in China's Hubei province, in late 2019. Cases of the disease it causes, COVID-19, grew by several thousand per day in China in late January and early February, the peak of the epidemic there.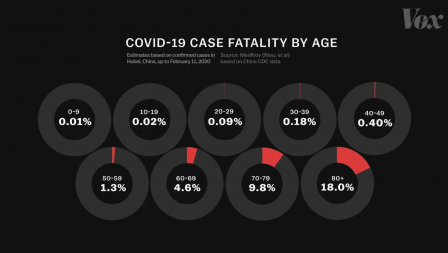 The number of infections appearing each day has since plummeted in China, owing in large part to containment efforts, but the outbreak is now a global pandemic. Large outbreaks in South Korea, Iran, Italy and elsewhere have propelled a spike in international cases across more than 150 countries.

The total number of confirmed cases outside China has now eclipsed those inside the country, and on 13 March, the World Health Organization's director-general Tedros Adhanom Ghebreyesus, said Europe had become the epicentre of the pandemic.

VOX*
https://www.youtube.com/watch?v=dSQztKXR6k0&feature=share


Cont'd.

LINK:
https://www.nature.com/articles/d41586-020-00758-2