Hurricane Iota Spreading Dangerous Flood Threat Across Central America After Category 4 Landfall

Source: Weather Channel


Hurricane Iota is spreading a dangerous threat of flooding rainfall and damaging winds into Central America after making landfall in northern Nicaragua as a strong Category 4 late Monday night.

Iota made landfall with maximum sustained winds of 155 mph at 10:40 p.m. EST on Monday near the town of Haulover, Nicaragua, or about 30 miles south of Puerto Cabezas, the National Hurricane Center said. The landfall location of Iota was just 15 miles south of where Hurricane Eta made landfall as a Category 4 earlier this month on Nov. 3.

This is the first time on record two major hurricanes - Category 3 or stronger - have made landfall in Nicaragua in the same hurricane season, much less only two weeks apart. NOAA's hurricane database only documented seven such Category 3-plus landfalls in Nicaragua prior from the mid-19th century through 2019.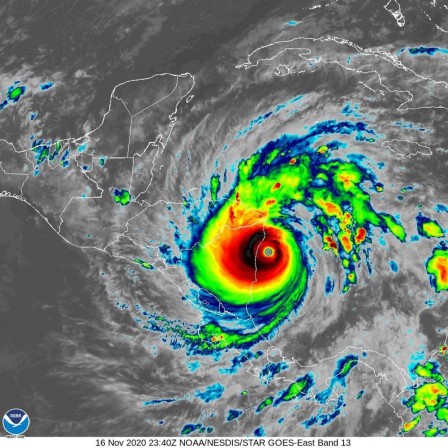 Cont'd.

LINK:
https://weather.com/storms/hurricane/news/2020-11-16-hurricane-iota-forecast-landfall-central-america