Hurricane Iota brings catastrophic winds and likely life-threatening flooding just miles from where Eta made landfall

Source: CNN



(CNN)Hurricane Iota has barreled into a Central America still recovering from Eta, bringing with it the possibility of "life-threatening" flooding, catastrophic winds and mudslides.

Swells from the storm will be felt from Central America to the Yucatán Peninsula, as far east as Jamaica and as far south as Colombia. Its landfall was just 15 miles south of where Hurricane Eta struck, potentially leaving the region scarred for generations.

The storm reached Category 5 strength and made landfall near the town of Haulover, Nicaragua, at 10:40 p.m. EST as a Category 4, with maximum sustained winds near 155 mph, according to the National Hurricane Center. It has since weakened to winds near 105 mph.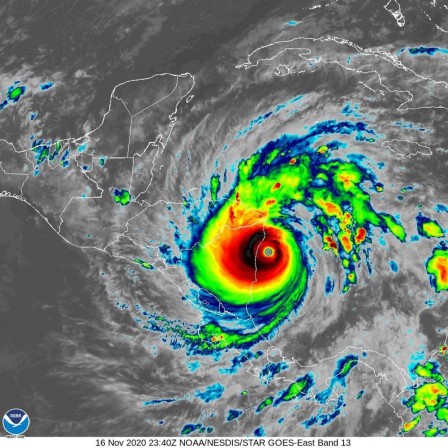 Photo: Courtesy of NOAA

Cont'd

LINK:
https://www.cnn.com/2020/11/17/weather/hurricane-iota-tuesday/index.html