Hurricane Iota makes landfall in Nicaragua as a record-breaking Category 5 storm

Source: Tampa Bay Times



Central America braced for its second major hurricane in as many weeks as Hurricane Iota, now a record-setting Category 5 storm, roared ashore in Nicaragua Monday night.

The storm made landfall in nearly exactly the same place as Eta, a Category 4 hurricane that battered the area two weeks ago. Iota is forecast to bring catastrophic winds, life-threatening storm surge as high as 20 feet, and nearly two feet of rain to Central America.

Eta's death toll is 150 and still rising, including a Guatemalan village with dozens of residents that was wiped off the map by a devastating mudslide.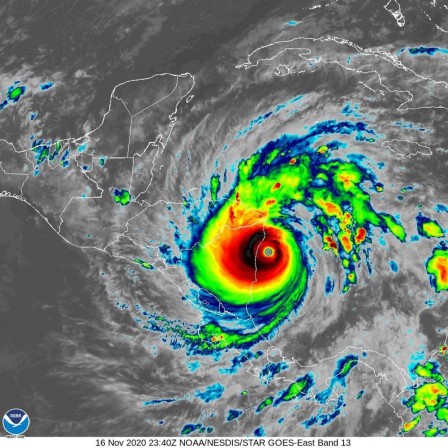 Cont'd.

LINK:
https://www.tampabay.com/hurricane/2020/11/16/hurricane-iota-makes-landfall-in-nicaragua-as-a-record-breaking-category-5-storm/