What Shakespeare Actually Wrote About the Plague

Source: The New Yorker



Shakespeare lived his entire life in the shadow of bubonic plague. On April 26, 1564, in the parish register of Holy Trinity Church, in Stratford-upon-Avon, the vicar, John Bretchgirdle, recorded the baptism of one "Gulielmus filius Johannes Shakspere." A few months later, in the same register, the vicar noted the death of Oliver Gunne, an apprentice weaver, and in the margins next to that entry scribbled the words "hic incipit pestis" (here begins the plague). On that occasion, the epidemic took the lives of around a fifth of the town's population. By good fortune, it spared the life of the infant William Shakespeare and his family.

Such outbreaks did not rage on forever. With the help of strict quarantines and a change in the weather, the epidemic would slowly wane, as it did in Stratford, and life would resume its normal course. But, after an interval of a few years, in cities and towns throughout the realm, the plague would return. It generally appeared on the scene with little or no warning, and it was terrifyingly contagious. Victims would awaken with fever and chills. A feeling of extreme weakness or exhaustion would give way to diarrhea, vomiting, bleeding from the mouth, nose, or rectum, and telltale buboes, or swollen lymph nodes, in the groin or armpit. Death, often in great agony, would almost inevitably follow.

Innumerable preventive measures were proposed, most of which were useless—or, in the case of the killing of dogs and cats, worse than useless, since the disease was in fact spread by rat-borne fleas. The smoke of dried rosemary, frankincense, or bay leaves burning in a chafing dish was thought to help clear the air of infection, and, if those ingredients were not readily available, physicians recommended burning old shoes. In the streets, people walked about sniffing oranges stuffed with cloves. Pressed firmly enough against the nose, perhaps these functioned as a kind of mask.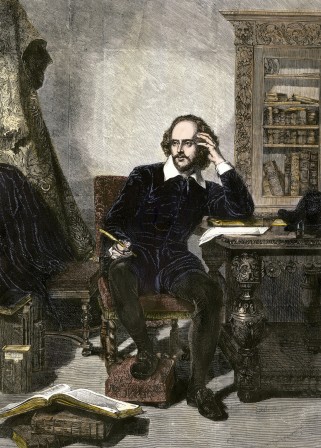 Cont'd.

LINK:
https://www.newyorker.com/culture/cultural-comment/what-shakespeare-actually-wrote-about-the-plague