October 2017: Earth's 4th Warmest October on Record

Source: WeatherUnderground


October 2017 was Earth's fourth warmest October since record keeping began in 1880, said NOAA's National Centers for Environmental Information (NCEI) on Friday. NOAA rated the five warmest Octobers since 1880 as being 2015, 2014, 2016, 2017, and 2003 (tied with 2017.) NASA rated October 2017 as the planet's second warmest October on record, with the only warmer October coming in 2015. Minor differences can occur between the NASA and NOAA rankings because of their different techniques for analyzing data-sparse regions such as the Arctic.

Global ocean temperatures last month were the fourth warmest on record for any October, according to NOAA, and global land temperatures were the eleventh warmest on record. Global satellite-measured temperatures for the lowest 8 km of the atmosphere were the warmest for any October in the 39-year record, according to the University of Alabama Huntsville (UAH) and Remote Sensing Systems (RSS).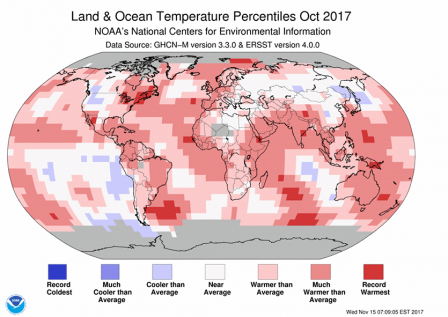 Figure 1. Departure of temperature from average for October 2017, the fourth warmest October for the globe since record keeping began in 1880. The month was characterized by warmer-than-average conditions across much of the world's land and ocean surfaces, with record warmth scattered across the globe. The largest positive anomalies were observed across north-central Russia, Alaska, northwestern and eastern Canada, and the northeastern contiguous U.S., where temperature departures from average were +3.0°C (+5.4°F) or higher. No land or ocean areas experienced record cold October temperatures. Image credit: National Centers for Environmental Information (NCEI).



Cont'd.

LINK:
https://www.wunderground.com/cat6/october-2017-earths-4th-warmest-october-record